For much of the region's history, wheat and barley were primary exports; today, Iraq is one of the world's largest grain importers.Compromised by lack of labor and contaminated grain, Omar Ali's harvest is inedible. It will become animal feed, and he will purchase wheat to feed his family. "In the past, our children would do the farming. Now, the young people are going to the cities for new jobs."
In Kani Sard, a village two miles from Jarmo (where wheat was domesticated around 8,000 B.C.), women make bread with bags of flour marked "Pakistan". Along with lack of water and limited agricultural land, dwindling government support has threatened local farming. More than half of Kani Sard's population has left for the cities in the past few years.
A local artist has repurposed a discarded weapons cannister into a symbol of regeneration, pouring forth local stone fruit. Throughout the region, whether by public art installations or agricultural initiatives, it's easy to see how plants is metaphorically and literally wielded to represent renewal despite persecution.
Volunteers and scientists press specimens collected in the mountains near Iran for a 'Flora of Iraq'. While training locals to identify native plants, botanists from Nature Iraq are meanwhile creating the first comprehensive documentation of local flora.
Jarmo, a neolithic farming site in northern Iraq's foothills, is believed to be one of the world's earliest farming villages. Archaeologists have found evidence of domesticated wheat and seed storage that date from around 8,000 B.C. Today, whether by genetic modification or by law, farmers cannot save seeds from many crops.
A wild hollyhock near Jarmo, northern Iraq. Hollyhock are among the flowers found in Shanidar Cave, Iraq, a Neanderthal burial site dated 60-80,000 years ago. Referred to as a "flower burial", eight species of medicinal plants included yarrow, ragwort, woody horsetail were buried in one grave alone, suggesting that the man had been a traditional healer.
In Iraq, melons are synonymous with summer; in a region where clean drinking water is scarce, watermelons are a good source of water, and vendors line every major roadway. Previously the region cultivated & exported many varieties of melons; today, only a few remain. Along with the watermelon, many traditional crops to have suffered in the last decade, as farmers struggle to cultivate, transport, and competitively price their harvest.
A rice farmer tends paddies in Baziyan to recultivate an heirloom variety of rice called Qush Qaya. The effort is initiated by the First Lady of Iraq, Hero Ibrahim Ahmed Talabani, who remembers the round, nutty rice as one of the many native plants that have disappeared since her childhood. Baziyan was once a prolific rice region; now the land is dry and varieties are extinct.
A museum in Halabja commemorates the 5,000 people killed in 1998, when Saddam launched chemical attack designed to eradicate a population in northern Iraq. Today, uncertainties linger about persistent soil contamination: villages are abandoned, and farmers have been slow to re-cultivate the once-fertile region. Yet Halabja is hopeful, filling orchards with pomegranates and apricots, and weapons canisters with garlands of green.
A botanist dissects Centaurea regia, a native thistle, collected in the Qara Dagh mountains. In collaboration with the Royal Botanic Garden at Edinburgh, scientists at Nature Iraq, a local environmental group, are collect specimening for the forthcoming 'Flora of Iraq', a comprehensive guide to regional plants. It is one of the many efforts to preserve and document the region's wealth of native plants.
When Iraq's national seed bank at Abu Ghraib was destroyed in 2003, this woman — a seed scientist — buried a cache of seeds in her basement. Eight yeats later she still works to preserve the region's botanic diversity. She joins a field workshop led by local botanists with Nature Iraq, through the northern mountains.
Since antiquity, herbalists have prescribed milk thistle (Silybum marianum). Modern Iraqi pharmacology research expands on traditional applications, identifying its seeds as a treatment for liver disease. Dr Ali Askari, a former professor at the College of Agriculture, predicts that it could be more profitable than wheat, a crop that is no longer generating revenue for the region.
If northern Iraq is an oasis of peace in a volatile region, then its urban parks—moments of green in the grey—provide an analogous respite in the concrete city. The locations of some are especially meaningful. Park Daik (Mother Park), a lush garden, is cultivated on soil previously occupied by a Saddam-directed prison. At the center is a monument to the future stands: a woman holding a baby, sculpted as if she were growing from a tree, surrounded by lavender. Nearby, in Park Azadi (Freedom Park), a landscape of orchards and ponds fills the footprint of a former execution field.
Concrete benches designed to look like local fruits can be found throughout public parks in the city. Along with pomegranate are watermelons and apples.
Chnar Hama Noori, a student at the College of Agriculture, harvests the seeds of different wheat varieties to compare the nutritional content and soil compatibility of both imported and domestic wheat. Incorporating modern methods with traditional practices, the school's curricula prepares a young generation of farmers to inherit their land.
At Sulaymaniyah's markets, local produce was once the rule. Now, it is the exception. People say they recognize the poor quality of imported vegetables, but cannot afford the high prices of locally-grown—if they can find them at all. In an effort to encourage local farmers, the Ministry of Agriculture has often declared a forthcoming embargo on the import of many native crops (eg. cucumber, onions), but the ban has yet to be implemented.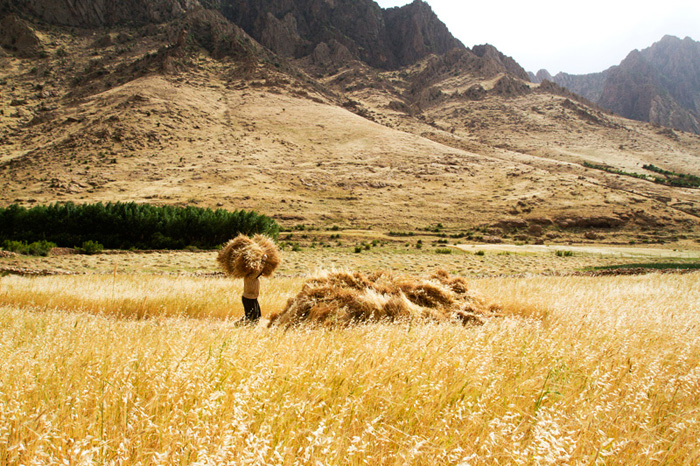 A woman carries bushels of wheat, unfortunately inedible.
Iraqi coins are decorated with a palm tree, another example of a region defined by its flora.